About The Show
Expositions are crucial in uniting people, as the face-to-face business and networking opportunities provided in this unique setting are incomparable. With nearly three decades of success, MEET has a proven track record as the second largest industry event of its kind in Canada, and the largest trade event east of Montreal.
You won't want to miss the 25th edition of the Mechanical Electrical Electronic Technology (MEET) Show!
Exhibitors will be displaying some of the latest products and services currently available to the mechanical and electrical industries. Other highlights to look forward to are the comprehensive seminars, as well as the Industry Dinner. The event will also feature the 6th 'MEET Innovation Awards', which recognizes and awards innovative products in each industry.
The success of the MEET Show is stronger because of partnerships with the four sponsoring associations. The volunteer-based Show Committee is made up of representatives from each of these associations, and proceeds generated from the show will be utilized by the associations for education, seminars, scholarships, research, and chapter/section promotion.
EDUCATION AND DIALOGUE
More than just a trade show, MEET is committed to offering strong educational components. This includes thought-provoking and topical seminars that will not only complement the trade show, but will also draw qualified buyers, and increase the overall value for all attendees.
Stay tuned for the seminar schedule as the show approaches.
INNOVATION AWARDS
MEET will, once again, proudly present the 'MEET Innovation Awards' at the show. These awards aim to recognize innovative products in the industry. There will be an award presented for each of the participating industries.
Date, Time & Location
Wednesday, May 1, 2024
9:00 am – 5:00 pm
Thursday, May 2, 2024
9:00 am – 4:00 pm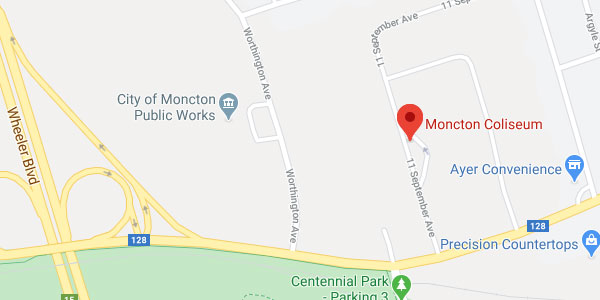 Moncton Coliseum Complex
377 Killam Drive, Unit 100
Moncton, New Brunswick
E1C 3T1
(506) 857-4100
Accommodations
Crowne Plaza Moncton Downtown
1005 Main St, Moncton, NB E1C 1G9
(506) 854-6340

Room Rate: $189
Click Here to Reserve Your Room.

Deadline to book: Saturday, March 30, 2024

Casino New Brunswick
21 Casino Drive, Moncton, New Brunswick E1G 0R7
506-859-7770 (extension 2)

Room Rate: $179.99
Click Here to Reserve Your Room (Use code 240428MEET)

Canvas Moncton
55 Queen Street, Moncton, New Brunswick E1C 1K2
1-506-800-8118

Room Rate: $149-$169
Click Here to Reserve Your Room

Deadline to book: Saturday, March 27, 2024

Delta Beausejour
750 Main St, Moncton, NB E1C 1E6


(506) 854-4344

Room Rate: $199.99
Click Here to Reserve Your Room.

Deadline to book: Saturday, March 30, 2024

Rodd Moncton Hotel
434 Main Street Moncton, New Brunswick E1C 1B9

Starting at $124.99 per night 
Click here to reserve your room